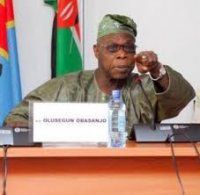 Nigeria's Former President, Olusegun Obasanjo on Wednesday blasted the National Assembly, saying the Goodluck Jonathan's administration has upped Nigeria's corruption level through the huge sums of money it has been paying to the National Assembly to stop investigating its corrupt acts.

Excerpt:

"Corruption in the National Assembly also includes what they call constituency projects which they give to their agents to execute but invariably, full payment is made with little or no job done.

Nigeria's former President, Olusegun Obasanjo, on Wednesday lampooned the National Assembly, saying it is largely an assemblage of looters and thieves.

Mr. Obasanjo, who was speaking at the public presentation of the autobiography of Justice Mustapha Akanbi, in Abuja, regretted that every aspect of Nigeria's national life is riddled with corruption.

However, he said there were a few exceptions and people who stand out and would not succumb to the scourge of sleaze, even in the federal legislature.