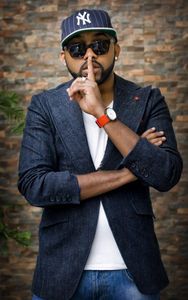 Hailed as the King of African R&B, the prolific singer, songwriter, producer known as Banky W is ushering in a new generation of vibrant artists on the continent and is reenergizing the entertainment industry. Born in the United States he grew up in Lagos where he began singing in church at an early age and upon completion of secondary school moved to New York to study Engineering. While still in college he won and was featured in numerous competitions and showcases which led him to form Empire Mate$ Entertainment, a label he envisioned as a platform for his music and the home of uber songwriting and production duo 'Muzik Men'.
'Undeniable: The EP' was his debut and the buzz around the record quickly caught the ears of FOX23 executives who featured it in a two part television special. A distribution deal followed and it eventually became one of the top selling independent records and won him the 2003 R&B/Soul Artist of the Year at the Urban Independent Music Awards. 'Back in the Buildin' was released in 2005 to critical acclaim and solidified his status as a ground breaking artist. 'My Regret' a stand out song on the record was a hit and won The John Lennon Songwriting Award in the R&B category, a US Songwriting Award as well as the Best R&B Male (2006) and Best International Single of the Year (2007) at the Nigerian Entertainment Awards.
In 2008 he moved to Nigeria after the completion of the innovative album 'Mr. Capable' and the results were outstanding. He had successfully fused R&B with traditional and urban African music and for the first time sang in English and African dialects. The album spawned hits like 'Capable', 'Work U Out' and 'Don't Break My Heart' and established him as one of the premier entertainers.
In December 2009, Banky W dropped his much anticipated follow up album in Nigeria, titled 'THE W EXPERIENCE'. A strong contender for the best album of 2009/2010 in Africa, it features production from Nigeria's most sought-after talents, and showcases Banky W. as he combines global R&B/Pop with African rhythms and influences to create an entirely unique and impressive sound. The 15-track album features collaborations from D'Banj, El Dee, 9ice; it also introduces his newly signed E.M.E acts, WIZKID and SKALES; and solidifies Banky W as the crown Prince of African Soul/R&B. The first two singles were released to much critical acclaim and commercial appeal, as "Strong Ting" and "Lagos Party" both went to Number 1 on Nigerian terrestrial media platforms as well as on all Pan-African platforms (e.g. MTV Base, Soundcity etc). The latest album has thus secured him even more award nominations across the board as he's been nominated for 7 (seven) Soundcity Music Awards, Channel O Awards, MOBO Awards, MTV Awards, the Hip Hop World Awards, the Kora Awards, and many more.
Not to be outdone by his exploits in the world of music, he is also accomplished in several other fields. He's a published writer, as articles from his blog (http://bankyw.blogspot.com) have been featured in numerous Nigerian Newspapers, magazines and websites. As a philanthropist, he launched the "I AM CAPABLE" scholarship fund, which provides tuition, room & board at private universities for youth who are in need and meet the grade requirements. He's also part of the "LightupNigeria" Project, which is focused on achieving constant electrical power supply in Nigeria, and other charities (e.g. Enough Is Enough Nigeria and Cool2Vote). An avid proponent of technology and its relevance and use in our society he constantly stays in touch with fans through his social media platforms (74,000+ Followers on Twitter, 220,000 fans on Facebook).
Besides selling millions of records, he has also been extremely successful in many Corporate Marketing Campaigns, having entirely produced, co-produced or been featured prominently in projects like Etisalat's 0809ja Launch, CocaCola-Nigeria's World Cup Waving Flag Theme Song Remix, TomTom Ad campaigns, and Microsoft's Anti-Cyber Crime Initiative. He's also currently the Brand Ambassador for Samsung Mobile for the West African Region. Mr. W is also an accomplished Master of Ceremonies/Host, as he has successfully anchored numerous high profile events such as The HipHop World Awards, Nigerian Breweries Legend Extra Stout Product Launch, the 2face Live Concert, and The Gulder Ultimate Search Celebrity TV Show Launch/Season Finale.
Last but not least, Banky is also a proven Leader and CEO, having catapulted one of his protégés Ayodeji "WizKid" Balogun into full fledged Superstar Status, by executive-producing his critically acclaimed debut album and serving as the Musical Director for his Massive Launch in June of 2011 at the Expo Center in Lagos Nigeria.
In a depressed world economy Banky W and Empire Mate$ Entertainment have revolutionized an industry by crafting songs that people identify with and using creative ways to market and monetize their brands, they represent a new brand of artist and company. Currently readying releases from Skales and an EME collaboration album it is officially an EME takeover; enjoy the ride.
The Samsung and Hennessy brand ambassador made another landmark in 2011, with the release of his new singles, #LowKey and #SettingP, the prelude to the very anticipated #R&BW album.
In 2012, Banky W signed on the amazing female vocalist, Niyola, male vocalist Shaydee and the talented DJ Xclusive to the Empire Mates Entertainment family. Together with already signed acts, Wizkid and Skales, Banky W led the team to produce on of the finest albums to be released in Africa titled 'EMPIRE STATE OF MIND.
AWARDS
— John Lennon Song Writing Award 2006, R&B Category, for 'My Regret'
— Best R&B Artiste, Nigerian Entertainment Awards 2006
— Best Male R&B Artiste, Urban Independent Music Awards, USA, 2006
— Best International Album, Nigerian Entertainment Awards 2007 for 'Mr Capable'
— Best R&B Video, Nigerian Music Video Awards 2008 for 'Don't Break My Heart'
— Best Vocal Performance (Male), Hip hop World Awards 2009 for 'Don't Break My Heart'
— R&B Single of The Year, 2010 Hip Hop World Awards for 'Strong Ting'
— Best Dressed Male Artiste, FAB Magazine Awards 2010
— City People Entertainment Awards 2010 – R&B Singer of the Year,
— City People Entertainment Awards 2010 – Music Video of the year for "Strong Ting"
— Soundcity Music Video Awards 2010 – Best Music Video (Male)
— Soundcity Music Video Awards 2010 – Best R&B Singer
— The Future Awards 2011 – Musician of The Year
— Channel O Music Video Awards 2011 – Most Gifted R&B Male Video
NOMINATIONS
— Best Vocal Male Performance, The Headies 2012
— Best Video, Song of the Year, 2010 Mtv Africa Music Awards
— Best African Act, 2010 MOBO Awards
— Most Gifted Male, Channel O Music Awards 2010
— Best Male Music Video, Nigerian Entertainment Awards 2010
— Best Pop/R&B Artiste of the Year, Nigerian Entertainment Awards 2010
— Recording of the Year, Best Vocal Performance (Male) – Hip Hop World Awards 2010
— Musician of the Year, Future Awards 2010
— Artiste of the Year, Dynamix Awards 2010
— Semi-finalist, African Artiste of the Year, KORA Awards 2010
— Best R&B/Pop Album (Mr. Capable), Hiphop World Awards 2009
— Hiphop World Revelation 2009
— Best Pop/R&B (Don't Break My Heart), Soundcity Music Video Awards 2009
— Best Male Video (Don't Break My Heart), Soundcity Music Video Awards 2009
— Best R&B Singer, City People Entertainment Awards 2009
— Musician of the Year, Future Awards 2009
— Best International Artiste, Nigerian Entertainment Awards 2009