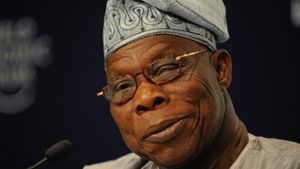 Former President, Olusegun Obasanjo, yesterday came down hard on the National Assembly, accusing members of massive corruption.
The former president spoke in Abuja at the public presentation of two books titled: "The story of my two worlds: Challenges, experiences," (an autobiography of a former President of the Court of Appeal and pioneer Chairman of the Independent Corrupt Practices and Other Related Offenses Commission, Justice Mustapha Akanbi) and "A life of service and grace: Shared perspectives", (a collection of Essays by scholars)."
Obasanjo said that; "Apart from shrouding the remunerations of the National Assembly in opaqueness and without transparency, they indulge in extorting money from departments, contractors and ministries in two ways.
"They do so during visits to their projects and programmes and in the process of budget approval when they build up budgets for ministries and departments, who agree to give it back to them in contracts that they do not execute. They do similar things during their inquiries," he said.
He said that under the President Goodluck Jonathan led administration; corruption has been elevated through the huge sums of money been paid to the National Assembly to stop investigation of its corrupt acts.
"Corruption in the National Assembly also includes what they call constituency projects, which they give to their agents to execute but invariably, full payment is made with little or no job done.
"In all this, if the executive is not absolutely above board, the offending members of the National Assembly resort to subtle or open threat, intimidation and blackmail. When the executive pays the huge money, normally in millions of dollars, all is quiet in form of whitewashed reports that fail to deal effectively with the issues investigated," he added.
Obasanjo urged the reversal of the trend if the nation must witness meaningful growth.
His words: "Nigeria cannot continue to indulge in disdain of truth, elevation of corruption and incompetence, reinforcement of failure, condoning of heinous crimes and celebration of mediocrity, tribal bigotry, fomenting violence and anti-democratic practices in states and National Assembly.
"Like prostitution, corruption is almost as old as man on the surface of the earth. It is needless to say that for the first time in the history of Nigeria, the combined and complementary efforts of ICPC and EFCC made Nigerians and non- Nigerians to know that corruption can be put on check and put to fight.
"When I came out of prison and I was persuaded to run as President, corruption was one of the priority items I chose to confront.
"For quite some time, the covered and hushed up corruption has had its toll on the economy. The non-investment in the oil and gas sector by major international oil companies has added its own deleterious impact.
"Our continued heavy dependence on one commodity had not adequately prepared us against any shock in that one commodity in the international plane.
"With the figure of $78 per barrel as benchmark, we will be in a bind if oil price falls to $75 per barrel.
"I am made to understand that Saudi Arabia used $68 as benchmark for the 2015 budget. Our inadequate protection of almost all local industries with heavy cost of energy has dealt a hard blow on most indigenous industries."
Obasanjo also accused the administration of President Goodluck Jonathan of killing the nation's economy by promoting corruption and incompetence.
He also blamed the President for wrongly diagnosing the Boko Haram problem, saying that had he understood the challenge better than he did, the activities of the sect would have been arrested while the nation would not have suffered so much.
According to Obasanjo, every aspect of Nigeria's national life is riddled with corruption, adding that the National Assembly is largely an assemblage of looters and thieves.
He accused the executive arm of government of making direct payments to the legislature in order to cover up its wrong doings.
On Boko Haram, Obasanjo said the sect was a socio economic problem tainted with religion, contrary to the belief by Jonathan that the insurgency is a creation of his political enemies to fight his government,
He said: "Boko Haram is not simply a menace based on religion or one directed to frustrate anybody's political ambition. It is essentially a socio-economic problem that is tainted with religion.
"It is a gargantuan danger to the nation and to all Nigerians. Initially, President Jonathan's understanding of Boko Haram phenomenon suffered from wrong reading and wrong imputation. That is what led us to where we are today
The Oba of Lagos and chief launcher of the books, Oba Rilwanu Akiolu, at the occasion accused Obasanjo of failing to track the volume of crude oil sales despite promising to do so before coming into power
Akiolu said before his inauguration as President, Obasanjo promised to ensure transparency in the Nigerian oil sector, "but later reneged on his promise as the oil sector was besieged with quantum corruption."
"Obasanjo failed to address the problems with the number of crude oil per barrel produced daily, how many barrels are exported for sale as well as the use of the proceeds," the monarch said.
But an enraged Obasanjo later fired back at the royal father, saying that it was during his tenure that allocation to states became transparent with the publication of monthly revenue of the three tiers of governments.
Vice President Namadi Sambo, who was represented by his Senior Special Assistant (Monitoring), Mr. Femi Oladele, commended Justice Akanbi's efforts in fighting corruption and his commitment to service.
He said by carving a niche for himself in the fight against graft, the jurist has left indelible footprints in the sands of time.
In his remarks, Akanbi observed that although there were allegations of witch – hunting, there was never a time Obasanjo interfered with his job in ICPC.
Akanbi also frowned on the increasing cases of nepotism and tribalism in Nigeria, as a result of which merit no longer matters in the country.
*** Corruption in N'Assembly includes constituency projects