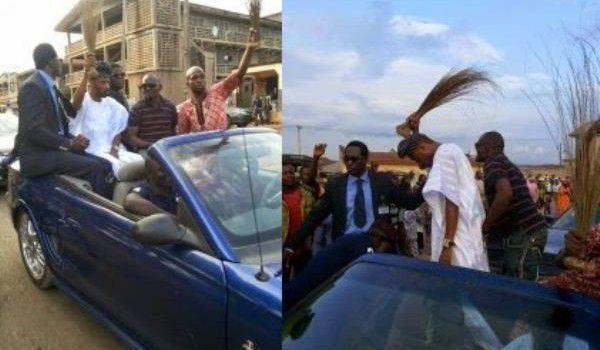 Musician-politician 9ice has boosted his political ambition by enlisting the support of several of his music superstar friends like Jaywon, Lord of Ajasa and LKT. The three were some of the artists that followed 9ice to his hometown of Ogbomoso, Oyo State to campaign on his behalf.
They enhanced 9ice's political aspirations by performing at Ladoke Akintola University Students' Union Week. The event took place at LAUTECH's main campus and drew a capacity crowd that wanted to witness the superstars' performances.
LKT thrilled them with his smash hit, Follow Follow, followed by Ejo and his latest hit, Buga. Jaywon then thrilled them with his celebrated hits Gbon Gbon Gbon and Madantin.
Lord of Ajasa then asked the crowd to bring out posters of 9ice for House of Representatives if they truly supported him. The crowd responded positively, so he performed his hit song, Le Fenu So, on which he featured 9ice.
And also speaking in 9ice's support, Areo Ajibola Oyegoke, President, Students Union Government, LAUTECH, said Ogbomoso people should support 9ice because he's a youthful person and it's time that youthful people should be in government.